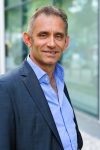 Joel Richard
Senior Vice President, Peptides, IPSEN
Advances in Non-Invasive Routes of Administration of Peptides: Focus on Successful Oral Technologies Progressing in the Clinic
Abstract
Most of large molecules like proteins and peptides are administered chronically through the parenteral route, sometimes for long periods of treatment. For this reason, there is a real interest in developing and bringing to the market formulations that can be administered through a non-invasive route, either transdermal, oral, buccal, or nasal and pulmonary. The purpose is really to focus on the patient and improve compliance, treatment adherence and patient comfort. Many progresses have been made in the recent years in the field of non-invasive routes of administration, most of them significantly progressing in the Clinic. As peptides generally show a very low ability to cross the membranes, one of the main challenges is the development of new technologies that improve permeability of these molecules across the epithelial membranes. The purpose of this talk is to review and discuss the key oral peptide delivery technologies significantly progressing in the Clinic, as well as the key challenges related to the very low oral bioavailability and the safety/efficacy profile.
Bio
Dr Joël Richard is currently Senior Vice President, Peptides Development in IPSEN (France). He is globally leading all the pharmaceutical development activities of small molecule and peptide-based products, including APIs and drug products, with major franchises in Oncology, Endocrinology and Neurology. Dr Richard has more than 25 years of experience in chemistry and biopharmaceutical R&D, including several global senior positions in various Biotech and Pharma companies, such as:
- Vice President, Drug Product Development in Ipsen (France) (2008-2011),
- Director, Pharmaceutical Development in Serono and Merck Serono (Italy, Germany) (2005-2008),
- Vice President Research, and Europe R&D Director at Ethypharm (France) (2001-2004),
- COO at Mainelab (France), a drug delivery company he co-founded, which was specialized in developing solvent-free processes for protein delivery systems (1999-2001).
Since 1996, Dr Richard has focused his research activity on new formulation technologies and drug delivery systems (such as microspheres, nanoparticles, nanocapsules, chemically-modified proteins, supercritical fluid technology . . .), especially for injectable peptide and protein formulations. Dr Richard has got a PhD in Materials Science (University of Paris VI, 1987). He has published 67 peer-reviewed scientific papers, 8 book chapters and 2 review editorials in various fields (colloids and interfaces, drug delivery, supercritical fluids, protein formulations, nanoparticles, sustained-release formulations . . .). He is the author of more than 120 international communications and 53 patent families.