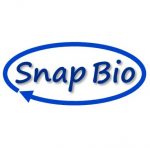 Brandon Chen
Co-Founder, Snap Bio, Inc.
Novel Cyclic Peptides Derived from Nature
Snap Bio, Inc., a preclinical stage company, is leveraging the biosynthetic and chemical diversity of Nature to discover and develop novel drugs derived from privileged natural product scaffolds. Centered around a proprietary cell-free biosynthesis system, our drug discovery platform marries the power of synthetic biology and advanced medicinal chemistry for high throughput (bio)synthesis of natural products and their "unnatural" analogs. With this unique approach, we have produced a novel class of cyclic peptides derived from Nature. These novel cyclic peptides display a unique folded three-dimensional structure and are functionally rich "mini-proteins" that provide multiple points of contact with receptors. These new cyclic peptides are very stable under physiological conditions, and have an ideal size that bridges the spatial gap between small molecules and large biologics. Our drug discovery efforts are underway to develop these cyclic peptides into agonists and antagonists of chemokine receptors.