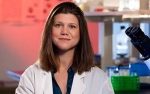 Kimberly Kelly
Co-Founder and Partner, Blue Ridge Biosciences
The Role of Molecularly Targeted Affinity Ligands in our Understanding of Human Disease, Pharmaceutical Discovery and Development, Nanotechnology Sensing Applications, Systems Biology, and the Design of Molecular Imaging Agents.
Molecularly targeted affinity ligands play an important role in our further understanding of human disease, pharmaceutical discovery and development, nanotechnology sensing applications, systems biology, and the design of molecular imaging agents. Successful molecular targeting relies on accessible targets (present in the tissue and able to be accessed by the agent) that are selectively expressed in cancer as well as specific affinity ligands that bind to those targets. With its large library diversity and rapid screening process, phage display has the potential to reduce existing bottlenecks around ideal target and lead compound identification to produce agents with the highest likelihood of in vivo success. However, there exists a number of challenges that have severely limited phage display's potential including: 1. False positive rates that necessitate a lengthy validation process, 2. Lack of robust, quantitative algorithms to guide lead compound selection, 3. Robust methods to compare target selectivity, and 4. Methods to identify peptide binding partner thereby discovering novel bioavailable targets. To overcome these drawbacks, we have developed a high throughput functional screening approach, Quantitative Selection of Available Targets (QSAT), that allows us to quantitate and compare multiple in vivo and in vitro datasets from phage screens to identify a comprehensive dataset of bioavailable targets in a disease system.