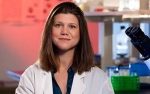 Kimberly Kelly
Co-Founder and Partner, Blue Ridge Biosciences
The Role of Molecularly Targeted Affinity Ligands in our Understanding of Human Disease, Pharmaceutical Discovery and Development, Nanotechnology Sensing Applications, Systems Biology, and the Design of Molecular Imaging Agents.
Abstract
Molecularly targeted affinity ligands play an important role in our further understanding of human disease, pharmaceutical discovery and development, nanotechnology sensing applications, systems biology, and the design of molecular imaging agents. Successful molecular targeting relies on accessible targets (present in the tissue and able to be accessed by the agent) that are selectively expressed in cancer as well as specific affinity ligands that bind to those targets. With its large library diversity and rapid screening process, phage display has the potential to reduce existing bottlenecks around ideal target and lead compound identification to produce agents with the highest likelihood of in vivo success. However, there exists a number of challenges that have severely limited phage display's potential including: 1. False positive rates that necessitate a lengthy validation process, 2. Lack of robust, quantitative algorithms to guide lead compound selection, 3. Robust methods to compare target selectivity, and 4. Methods to identify peptide binding partner thereby discovering novel bioavailable targets. To overcome these drawbacks, we have developed a high throughput functional screening approach, Quantitative Selection of Available Targets (QSAT), that allows us to quantitate and compare multiple in vivo and in vitro datasets from phage screens to identify a comprehensive dataset of bioavailable targets in a disease system.
Bio
Kimberly A. Kelly, PhD is an Associate Professor of Biomedical Engineering at the University of Virginia in Charlottesville, VA. Kim received her bachelor's degree in Chemistry from Hamilton College in upstate NY, and her PhD from the University of Utah under the guidance of Dr. David Jones, PhD. Her thesis was using genomics and proteomics based approaches to develop diagnostic reagents for colon cancer. After obtaining her PhD, Kim took a postdoctoral fellowship position at the Center for Molecular Imaging Research at MGH. In 2004, she was promoted to instructor of Radiology, and in 2008 to Assistant Professor of Radiology at MGH. Dr. Kelly is currently an Associate Professor with tenure at the University of Virginia in the Biomedical Engineering Department. Dr. Kelly is a member of SNMMI where she served as a board member of CMIIT, the American Pancreatic Association and the AACR. She was named a William Guy Forbeck Scholar in 2005 and awarded an AACR-Pancreatic Cancer Action Network Career Development award in 2007. In 2016, Dr. Kelly cofounded and is a partner of BlueRidge Biosciences, LLC, a peptide and target discovery company located in Earlysville, VA. Dr. Kelly's research interests include the identification of biomarkers and development of molecularly targeted probes, both as imaging agents for the detection of various cancer disease processes and as vehicles for targeted drug delivery.