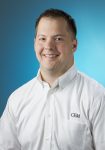 Keith Porter
Senior Research Scientist, CEM CORPORATION
Solid Phase Peptide Synthesis (SPPS) at Elevated Temperatures: Advances, Process Development, and Considerations
Abstract
Method development for further advancing the efficiency of SPPS is of the utmost importance. Microwave irradiation provides simplified optimization, higher peptide purity, and an overall "greener" process. Compared to conventional heating methods, microwave irradiation provides rapid and direct energy exchange with the reagents.
Our previous research improved coupling efficiency and speed. The result, difficult and long sequences are effectively synthesized in a fraction of the time using much less solvent [1]. Advances have been made which further reduce the cycle time to under 4 min, offer an overall solvent reduction greater than 90 % compared to other SPPS processes, and are readily scalable to generate up to 200 mg purified peptide. As an example, a 20mer at 0.3 mmol scale, can be synthesized in little as an hour. This unique chemistry, which is ideal and readily applicable for developing peptide vaccines for personalized medicine, will be discussed.
Rapid scale-up for clinical trials and peptide production has been accomplished using similar technology. Crude purity from R&D to production scale is preserved if not improved and unwanted side reactions such as epimerization and aspartimide formation are easily controlled. The result, easier purification and reduced labor cost. Cycles times at the production scale range from 10 – 60 min with the capability to produce up to 1 KG crude peptide in a single batch. Several examples, including process development, will be presented.
[1] J. M. Collins, K. A. Porter, S. K. Singh, G. S. Vanier, Org. Lett. 16, 940 (2014).
Bio
Keith studied organic chemistry and material science at the University of Illinois Urbana-Champaign. After completing his M.S. in 2007, he joined CEM Corporation as a development chemist in the synthesis division. Keith joined the business development group in 2014 as a senior research scientist and has once again found himself as a polymer chemist - this time, his focus is on biological polymers. Keith has several publications at CEM and his current focus is applying the benefits of microwave assisted SPPS at the R&D scale to production scale.