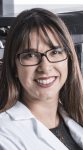 Cyf Ramos-Colon
Senior Scientist, Gyros Protein Technologies
Therapeutic peptides: synthesis optimization using parallel automated SPPS
Abstract
Peptide therapeutics have seen renewed interest with many being approved and many more in clinical studies in recent years. Peptides with increased complexity such as hydrophobic, large, and cyclic peptides have become increasingly popular as therapeutic agents given their positive pharmacological properties, such as their improved stability, membrane penetration, and target specificity [1]. Increased peptide drug development and the race for personalized medicine has driven the search for faster and more efficient protocols, making method development a crucial part of the drug discovery process. Solid phase peptide synthesis (SPPS) methods of linear peptides have seen improvement using heat (>50°C) and highly reactive coupling reagents, resulting in shorter coupling cycles with higher crude purity. While cyclization chemistry has traditionally been performed in solution, different factors, such as ring size and sequence, can compromise efficiency. Using higher temperatures may provide advantages for on-resin synthesis of cyclic peptides, as well as coupling of difficult sequences. Because a peptide's sequence dictates its synthetic difficulty, parallel condition optimization facilitates a more robust synthesis method and allows simultaneous analog synthesis used for SAR studies of synthetically challenging sequences.Here we will show the complete parallel synthesis, from swelling to cleavage, of different biologically relevant peptides under different conditions; resins, coupling reagents, and temperature scans were evaluated on an automated peptide synthesizer with higher purity and yields in a reduced amount of time.
Reference:
[1]S. H. Joo, "Cyclic peptides as therapeutic agents and biochemical tools," Biomol. Ther., 20, 1, 19–26, 2012.
Bio
Cyf Ramos-Colón received her PhD in Pharmaceutical Sciences in 2016 from the University of Arizona College of Pharmacy. She worked with Victor J. Hruby in the design and development of novel peptide drugs based on endogenous opioid peptides for the treatment of opiate related side effects. In late 2016 she joined the Gyros Protein Technologies team where she has led the Peptide Applications laboratory, developing peptide synthesis applications on automated peptide synthesizers exploring new synthetic approaches.