July 8, 2014 (Boulder, CO)  -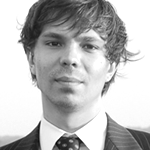 The Boulder Peptide Society is pleased to announce that Dr Ratmir Derda, at the University of Alberta,  has received the Young Investigator Award for 2014.  The Young Investigator Award was established earlier in the year to support promising peptide scientists during the pre-tenure period. 
Ratmir Derda is the Assistant Professor in Department of Chemistry at University of Alberta. Ratmir received his B.Sci. in Physics and Biophysics from Moscow Institute of Physics and Technology in 2001 and Ph.D. in Chemistry from the University of Wisconsin-Madison in 2008, under the supervision of Laura L. Kiessling. From 2008 to 2011, he was a postdoctoral researcher at Harvard University working under the supervision of George M. Whitesides at the Department of Chemistry and Chemical Biology and Donald E. Ingber, at the Wyss Institute for Biologically Inspired Engineering
.

Ratmir is an emerging star who combines a solid background in biology, cutting edge knowledge of technology and microfluidics with chemical insights. He has authored 32 publications in the areas of chemical biology, peptide chemistry and peptide discovery for cell growth and differentiation studies. Of the 32, publications, 15 were published during the first three years of independent career, and four of these publications were featured on the journal covers (ACS Chemical Biology, Lab on a Chip and Angewandte Chemie). He is editor in Peptide Libraries book (Springer Methods in Molecular Biology Series); the book is undergoing last stages of the assembly process.  He is an author on seven patent applications and one published patent (peptide arrays for discovery of sequences that control stem cell differentiation); the latter technology has been licensed to Cellular Dynamics International Inc. Technology developed in his post-graduate research is used as a core platform in a startup company in Boston, MA (CellBridge LLC). In his independent group, he has established an distribution service Syntarray, which will provide samples of patterned planar support for peptide synthesis and cell biology applications. 
In his independent career, Ratmir Derda raised over 2M in funding, which originate from Canadian federal and provincial sources as well as a US peptide pharmaceutical company (Ferring Pharmaceuticals). In 2011, he was a recipient of Rising Star in Global Health Award from Grand Challenges Canada in 2011 and he used the funds provided by the award to organize the first conference and hands-on demonstration of prototypes of diagnostic devices in Nairobi, Kenya. Ratmir has also established a track record of mentoring and supporting junior investigators in his laboratory. For these achievements, he was recently selected for a student-nominated Award for Outstanding Mentorship in Undergraduate Research from the University of Alberta. 

In recognition of the professional and scientific achievements,  the Scientific Advisory Board of the Boulder Peptide Society is pleased to present the award to Ratmir Derda. Dr Derda shall also present an oral presentation on his research and formally accept the award at the fall Boulder Peptide Symposium Sept 22-24 in Boulder, Colorado.
For more information visit www.boulderpeptide.org