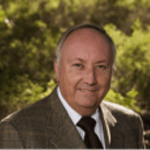 Boulder, Colorado – August 11, 2014
Jean Rivier, Ph.D. the Dr. Frederik Paulsen Chair in Neurosciences and professor in The Clayton Foundation Laboratories for Peptide Biology at the Salk Institute for Biological Studies has been named as the 2014 recipient of the Meienhofer Award for Excellence in the Peptide Sciences. The award will be presented to Dr. Rivier on Tuesday the 23rd of September at the Boulder Peptide Symposium, where Dr. Rivier will give a presentation of highlights from his prodigious record of research achievements.
Dr. Rivier earned his Ph.D. from the University of Lausanne, Switzerland in 1969.  He then came to the Salk Institute in 1970 as a research associate by way of a post doc at Rice University.  Dr. Rivier was appointed Professor, Clayton Foundation Laboratories for Peptide Biology at Salk in 1989, a position, among others, that he holds to this day.
Dr. Rivier is the author of over 650-refereed papers, and holds more than 125 patents.  The focus of much of Dr. Rivier's work has been the biology and chemistry of hypothalamic hormones.  His life's work on the peptides and analogs of Corticotropin Releasing Hormone, Growth Hormone Releasing Hormone, Somatostatin, and Gonoadotropin Releasing hormone have provided the causative motive force behind the discovery of hormone derived peptide drugs in the marketplace which have grossed more than $1Billion.
Dr. Rivier has held positions on the Scientific Advisory Boards for numerous biotechnology companies including Alanex, Neurocrine Biosciences, Peptor, Balance Pharmaceuticals, and Cognetix.
A leader in the peptide community, Dr. Rivier co-founded the American Peptide Society. and was elected President in 1994-5. In 1990, he was recognized as the recipient of the Vincent du Vigneaud Award and in 1994, he received the Sidney H. Ingbar Distinguished Service Award of the Endocrine Society.
More information on the Meienhofer Award, including a list of previous recipients, and the Boulder Peptide Symposium can be found online at www.boulderpeptide.org.