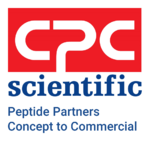 SEE WEBSITE
REQUEST TO MEET AT BPS
REQUEST A DISCOUNT CODE

CPC Scientific is the preferred vendor for top pharmaceutical and biotechnology companies and respected universities around the world. We specialize in cGMP and generic peptides, while still offering a full range of research-grade custom and catalog peptides.
We serve customers from early drug discovery stages through clinical trials to commercial manufacturing. CPC Scientific meticulously follows FDA and ICH guidelines for cGMP manufacturing, and has completed four US-FDA inspections with no Form 483 observations. We provide complete support for your IND and NDA filings in the USA as well as all international filings and required regulatory support for your peptide Active Pharmaceutical Ingredients (APIs). Our New Chemical Entity (NCE) development program involves process development, process validation, analytical method development, method validation, stability studies, regulatory support, and assistance in preparing regulatory documents.
CPC Scientific takes pride in the flexible range of peptide manufacturing options and services that we offer. We're able to produce peptides from 2 to >200 AAs in length at purities from 80% up to 99%. We can synthesize virtually any side-chain modification, including multiple disulfide bridges, phosphorylation, ring closing metathesis, click chemistry, FRET and TR-FRET labeling, glycosylation, PEGylation, bioconjugation, main- and side-chain cyclization, C-terminal modification (CMK, aldehyde, CMF, etc.), and more. We have the expertise to design and manufacture complex peptides, and can perform almost every available peptide modification.