SEE WEBSITE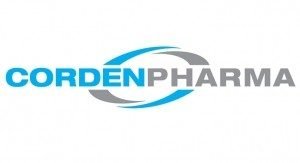 REQUEST TO MEET AT BPS
REQUEST A DISCOUNT CODE

CordenPharma has the largest capacity for the synthesis and purification of peptides in the world due to being the only company to have produced metric tons of the complex peptide Fuzeon® (enfuvirtide).
As the volume leader in custom peptide production with automated peptide synthesizers ranging from 12L to 10,000L, CordenPharma is committed to addressing complex solvent handling, recovery and recycling logistics.
Furthermore, CordenPharma's combined large-scale peptide production capabilities also include preparative HPLC lyophylization equipment as well as proprietary peptide precipitation know-how for cost effective final-step peptide isolation.
CordenPharma additionally provides expertise in scaling complex peptides with multiple disulfide bridges or particularly long sequences (up to 60 amino acid residues) as well as lipoand carbohydrate conjugates.